A personal note of interest!
As a young PFC in the US Army, I was stationed in Germany when this was fielded.
I was assigned guard duty on the systems and had to apply for and was given a TS Security Clearance.
Woodward L Eastwood
Master Sergeant, US Army Retired
Vice Commander, National EOD Association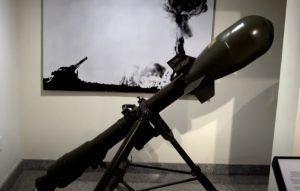 Starting in 1961, the Army began fielding Davy Crockett weapons systems to infantry units in West Germany, Guam, Hawaii, Okinawa, and South Korea, according to the Army Historical Foundation. The Davy Crockett was operated by three soldiers and mounted on a jeep. The "light" M28 120mmm recoilless rifle had a range of 1.25 miles, and the "heavy" M29 155mm rifle could lob the nuke up to 2.5 miles away.
Click Here To See the Task & Purpose Article
YouTube Video of the M388 Davy Crockett Operational Test