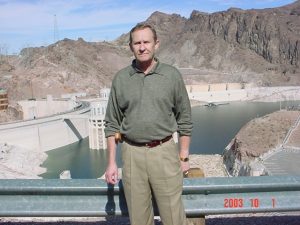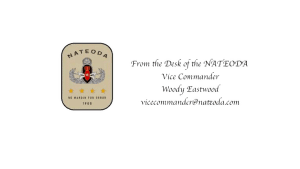 ---
7th Edition of the NATEODA newsletter
1 October 2022
This project is the sole effort of Woody Eastwood, and it is not to be assumed that the Association will continue this in the future.
---
National Officers
James E Duncan – Commander
Woody Eastwood -Vice Commander
John Simpson -Treasurer
Stu Steinberg – Adjutant/VA benefits coordinator
Ted Carlson – Webmaster
Chet Heidl – Director
Dave Tipton – Director
Terry Fitzgerald – Director
Tom Manders – Manager of the NATEODA Facebook Group
Irvin Banta III, National EOD Association Chaplain
Bob Leiendecker, National EOD Association Historian
SGM Mike Vining, US Army retired, our "go-to" for anything "EOD"
---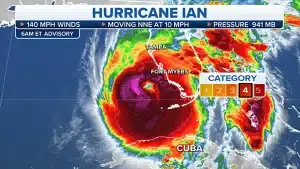 My thoughts and prayers go out to those affected by the Hurricane!
If any of our National EOD Association members need assistance in the aftermath of this devastating storm, reach out to us and we will assist in finding the help you may need.
---

A Personal Note from the Vice Commander
Wow! I have now been on the Board of the Association going into my 10th month. Where oh where has all the time gone?
I do think we are making some progress in strengthening the Association. Our membership is up significantly in these last two months.
My major goal is still to improve communications with the Association members. I welcome your feedback on what you would like to see in these newsletters.
I do apologize for the redundancy of the information about the convention in this newsletter and the Convention Page on the website. I felt it was necessary to reach all members and to ensure that you are aware of what a great success the convention was.
---

As we now look at St Louis, Missouri in our rearview mirror, I'll give you some highlights from the 2022 National EOD Association Convention.
We had a small but terrific turnout, Those that attended had a great time getting reacquainted, and touring St. Louis. The chosen Hotel was very nice. The Banquet was Superb. Our host Julie Kline did an absolutely fantastic job, thank you so much, Julie!

The Convention went into gear with the Commander's reception on Wednesday evening
Acquaintances were made and renewed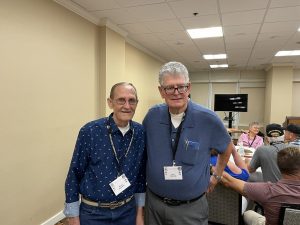 Woody Eastwood and Richard Wadleigh shared experiences of being at the 97th EOD Detachment in Ikego, Japan, Woody was Richard's replacement!
It was indeed a fun get-together!
The 50/50 drawing brought us $585.00 for our coffers.
---

The guest speakers were fantastic and gave us a lot of information.
Command Sergeant Major Dave Silva brought us up to date on what the EOD field and the terrific young warriors of today's Army are doing. (Not Surprising is, they are not so much different than we were). The Officers and NCOs are still building a Great EOD Family.
---

       
John Culp his wife Donna and their assistant April Olsen with the Bomb Techs without Borders
brought us up to date on the Ukraine War with Russia. They indeed need our support, and they are doing a fantastic job of clearing hazardous munitions from the war-torn land and teaching the Ukrainian EOD techs some tricks of the trade. Their presentation brings to the forefront, the devastation to the country of Ukraine.
---

Melissa Tackitt gave us a superb talk on the EOD Warriors foundation
We thank the EOD Warrior Foundation for contributing to our Convention.
---
The time and place committee
has chosen Oklahoma City, Oklahoma as the city for our next Convention in 2023. Dates are to be between 15 September and 15 October 2023, the specific week to be determined by the hosts. (Woody Eastwood and Walter Perry)
The Convention for 2024 will be in Huntsville, Alabama. The dates will be between the 15th of September and the 15th of  October 2024, the specific week to be determined by the host. (Doug Rhodes)
Make your plans early and let's have a terrific turnout for these events.
We discussed a lot of business of the Association and what we want to achieve going forward.
Some very important changes have been made that will affect the whole Association.
It is with great remorse that we announce the dissolution of the Vietnam Chapter of the Association.
This action will not affect the membership status of those members, they remain a substantial part of the National EOD Association.
The update of our bylaws
is going to be our primary goal and we hope to have them available to be reviewed by the members and voted on after the first of the year.
Our first "Electronic Election"
went well and we have installed the Association officers and the Board of directors. Thank you all,  that voted and made our first "Electronic Election" a success.  48% of our members cast their ballots.
James E Duncan remains the Commander of the Association
Woodward (Woody) Eastwood will remain as your Vice Commander
John Simpson is our new Treasurer
Stuart Steinberg remains as Adjutant
Terry Fitzgerald is a new Director
Chet Heidl remains a Director
Dave Tipton is a new Director
Proposal to allow Public Safety Bomb Technicians who have completed the hazardous device course to become regular members of the association was passed by 71.3% of the vote.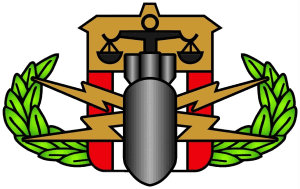 On 15 September 2022 by approval of a majority vote of the members, (passed by 71.3% of the vote) the association will allow Public Safety Bomb Technicians who have graduated from the Hazardous Device Course at Redstone Arsenal Alabama, and is working in, or has worked as a Bomb Tech, to be eligible to become regular members of the association. This membership shall be capped at 25% of the Military members. If that cap is met, a Public Safety Bomb Tech may be an associate member, and will be placed on a waiting list to become a regular member.
Our First Member of that group is Richard Oenning Public Safety Bomb Tech and Grandson of Jim Springle, Korean and Vietnam EOD War veteran and a long time member of the Association.

---


The Convention Banquet was very enjoyable and everyone had great time.
After a delicious dinner, we had our auction which brought a sizable reward. $2,040.00
We took the EOD badge off of SGM Silva's Chest and sold it at the auction for a tidy sum!
Thanks you to all that donated items for the auction.
---

Meet and Welcome our Newest Members for the month of September
This was a great month for new members, and we very much appreciate your membership!
Joel Rex
April Olsen
Dario Gundersen
James Thurman
Eric Barker
CSM David Silva
Joel Koekkoek
Dan Montrose
Edward Fagan
Brian Kibitlewski
Todd Hunter
Taamir Ransome
Tim Rodriguez
---
This Months featured Member of the "EOD Family"

 

Colonel Thomas J. Kane 
Inducted into the US Army Ordnance Corps Hall of Fame in 1969
Colonel Thomas J. Kane was born on March 30, 1900 and attended Carnegie Institute of Technology where he accepted a reserve commission as a second lieutenant in 1924. 
He began active duty in 1941 as a major, serving throughout the world during World War II. Colonel Kane was known throughout the Ordnance Corps as the organizer of the Army's bomb disposal program in World War II. 
He contributed significantly to its activation, organization, and implementation. Under the direction of Colonel Kane, a bomb disposal school was established at the Ordnance Training Center, Aberdeen Proving Ground, in 1941. 
In 1944 Colonel Kane went to England, where he formulated bomb disposal procedures, techniques, and special tools. He devised a suitable plan for the organization and administration of bomb disposal units in the field. The work performed by bomb disposal personnel proved to be immensely valuable to the war effort. 
Colonel Kane was the Chief Ordnance Officer of the Far Eastern Air Forces in Tokyo during 1948-49 and was Commanding Officer of Frankford Arsenal, Pennsylvania, from 1953 to 1954. 
During the following year, he was Commanding Officer of the Explosive Ordnance Disposal Center at Aberdeen Proving Ground. Colonel Kane retired on May 31, 1955 and died on November 12, 1965. 
---
Join our Monthly Board Meetings
We would like to invite 3 Members to join our monthly board meetings via Zoom meetings.
If you would like to join us please submit your name and I will randomly draw 3 members to attend. This will be 3 different members each month. Your participation would be greatly appreciated.
Our goal is to, involve the membership in the operations of the Board of Directors and give you some input. We want to be an "all inclusive" organization. Your Membership is very important to us.
Send your request to [email protected]
---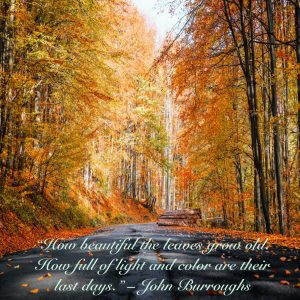 Fall is a beautiful time of the year. Get out and enjoy all the beautiful colors that await you!
My 54th Anniversary of Graduating from NAVSCOLEOD,  Class 26SN, Indian Head, Maryland is 4 October 1968.
Wow! What a ride it's been. There is nothing better than the EOD Family!
---
Donations to the Association are always welcomed and appreciated!
---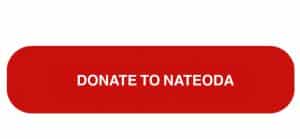 ---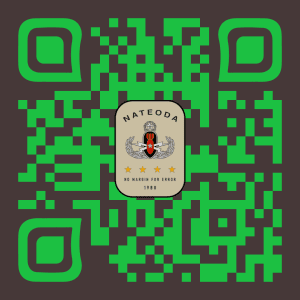 Scan me with your phone camera
---

………..That winds it up for October……….
Let us hear from you!