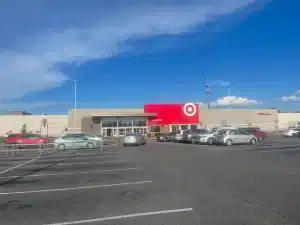 Several Target locations in the Oklahoma City metro area were briefly evacuated Saturday afternoon after media outlets received what police described as "vague bomb" threats, police said. The threats come as the retail chain faces backlash over its Pride Month merchandise.
"Whether it's a hoax or not we have to take it seriously," said Sgt. Rob Robertson of the Oklahoma City Police Department. Robertson said Target stores in Yukon, Moore, Norman, and Oklahoma City had been notified.
Oklahoma City television station KFOR reported that it had received the email, which listed several Target locations and claimed two had bombs inside.
"We are going to play a game," the email said, according to the station. "We hid the bombs inside some product items. The bombs will detonate in several hours, guess which ones have the bombs. Time is ticking."
The email included the date of April 19, 1995, the date of the Oklahoma City bombing, KFOR reported.
The Oklahoma City store at 5400 May Ave. reopened around 6:20 pm after about a two-hour closure. The company said in a statement that all the stores had reopened.
"The safety of our team members and guests is our top priority," the statement said. "Law enforcement investigated claims regarding several stores in the Oklahoma City area today and determined these stores are safe. Our stores are currently open and operating regular hours."
Target is among corporate brands that have come under fire from right-wing groups for supporting the LGBTQ+ community. Target stores in Utah, Ohio, and Pennsylvania have also received bomb threats in recent weeks.